Staff
David Mangold, PA-C
Dave is a Board Certified Physician Assistant and Paramedic. He has been practicing at The Allergy & Asthma Center since 2002. Dave works five days a week and is the primary provider in Kalispell. Dave occasionally assists with allergy shots and testing. Dave is a member of the American Academy of Allergy, Asthma, & Immunology as well as the American College of Allergy, Asthma, & Immunology. He is currently seeing patients in both Missoula and Kalispell.
Ruth West, PA-C
Ruth and her husband moved here in early 2008 to be closer to their family. Ruth has been working in allergy and asthma care since 1994. She brings a wealth of knowledge and experience to The Allergy & Asthma Center. Ruth will be working part time and filling in for Dave when he is out of town. Ruth is a member of The American Academy of Allergy, Asthma and Immunology as well as The American College of Allergy, Asthma, and Immunology. She has been a research sub-investigator as well as an assistant professor at The University of Wisconsin. Ruth sees patients in Missoula only.
Orlynda Goodman, RN
Orlynda also has many years of healthcare experience and works part-time in Kalispell. Orlynda and Kay have been seen carousing at some of the best allergy conferences on the West Coast. Orlynda can make you feel right at home, even in a medical office.
Megan Meyers, Receptionist
Megan joined us in the fall of 2010 and brings with her a wealth of previous medical office experience. She is most likely the person who will be answering your calls, scheduling your appointments and making sure everything is in order prior to your appointment. We are pleased to have Megan with us and she completes the team very nicely.
Katie Borgen, Nutritionist
Katie is our licensed Nutritionist on staff. As a Registered Dietitian she is available to counsel any of our patients. She is being specially trained in food allergies, eosinophilic esophagitis and nutrional impacts of allergic diseases. She sees patients in Kalispell.
Tammy Adams, Receptionist
Tammy has joined the staff as the full time Kalispell receptionist since May 2012. She is a true patient advocate and provides excellent customer service with a smile. She has the busiest job in the Kalispell office and keeps us all on our toes. She answers phones for both Missoula and Kalispell offices along with the Missoula staff.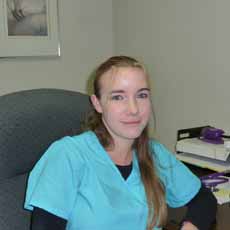 Jenniffer Nelson, Medical Assistant
Jenniffer joined the Kalispell staff full time in 2013. She is part of our growing Kalispell office and gives us the ability to expand services in the Flathead Valley. She is cross trained to handle all nursing and receptionist duties. We are thrilled to have her join the team.
Arlon Bennett, FNP-C
Arlon (pronounced "ARE lone") joined us in September 2014. She will be working part time in Missoula and covering Kalispell when Dave is out of town. She is hoping to build a large allergy practice here in the coming years. She has extensive background in Emergency Medicine as a paramedic and ER nurse. She is very eager to get involved in public education, community outreach and screening programs. She will be trying to reach out to school, corporate and community organizations to better educate the public about allergic and immunologic diseases that we treat. She is happily married with one son still at home and enjoys working with her horses and cows.
Mandy Clark, Medical Assistant
Mandy joined our Missoula office in May 2015. She has over 10 years nursing experience and is very excited to be a part of our team. Mandy is a Montana native, growing up in eastern Montana and then relocating to Missoula 15 years ago. She is happily married and has 2 little girls at home that keep her very busy.