Staff
David Mangold, PA-C
Dave is a Board Certified Physician Assistant and Paramedic. He has been practicing at The Allergy & Asthma Center since 2002. Dave works five days a week and is the primary provider in Kalispell. Dave occasionally assists with allergy shots and testing. Dave is a member of the American Academy of Allergy, Asthma, & Immunology as well as the American College of Allergy, Asthma, & Immunology.
Aggie Danielwicz, PA-C, Ph.D.
Aggie graduated as a physician assistant from Trevecca Nazarene University in August 2014 and since then has been working in the field of asthma, allergy and immunology. Her previous education includes a Ph.D. in Molecular Biology (2000) from Aarhus University in Denmark and a post-doctoral fellowship at the Danish Cancer Society.
She believes in educating patients about their own conditions in order to empower them to make good decisions. Aggie has a multicultural background (born in Poland, educated in Denmark and US) and a quirky sense of humor.
Aggie joined the practice in January 2018. When not working, she is reading, cooking, traveling, hiking, (downhill) skiing and (road & Mountain) biking.
Tammy Curry, Clinic Administrator
Tammy has worked for the Allergy & Asthma Center since 2012. She is the Clinic Manager and is responsible for overseeing all staff, billing and business decisions.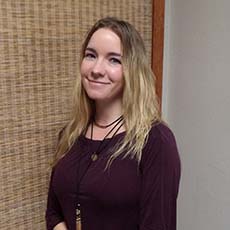 Jenniffer Nelson, Medical Assistant
Jenniffer joined the Kalispell staff full time in 2013. She is part of our growing Kalispell office and gives us the ability to expand services in the Flathead Valley. She is cross trained to handle all nursing and receptionist duties.
Heather Shortell, Receptionist
Heather joined our team in 2017 as our receptionist, and patient care advocate. Her many duties include answering multiple phone lines, scheduling patients, taking patient payments, and serving as the liaison between patient and provider while providing quality care with a smile.